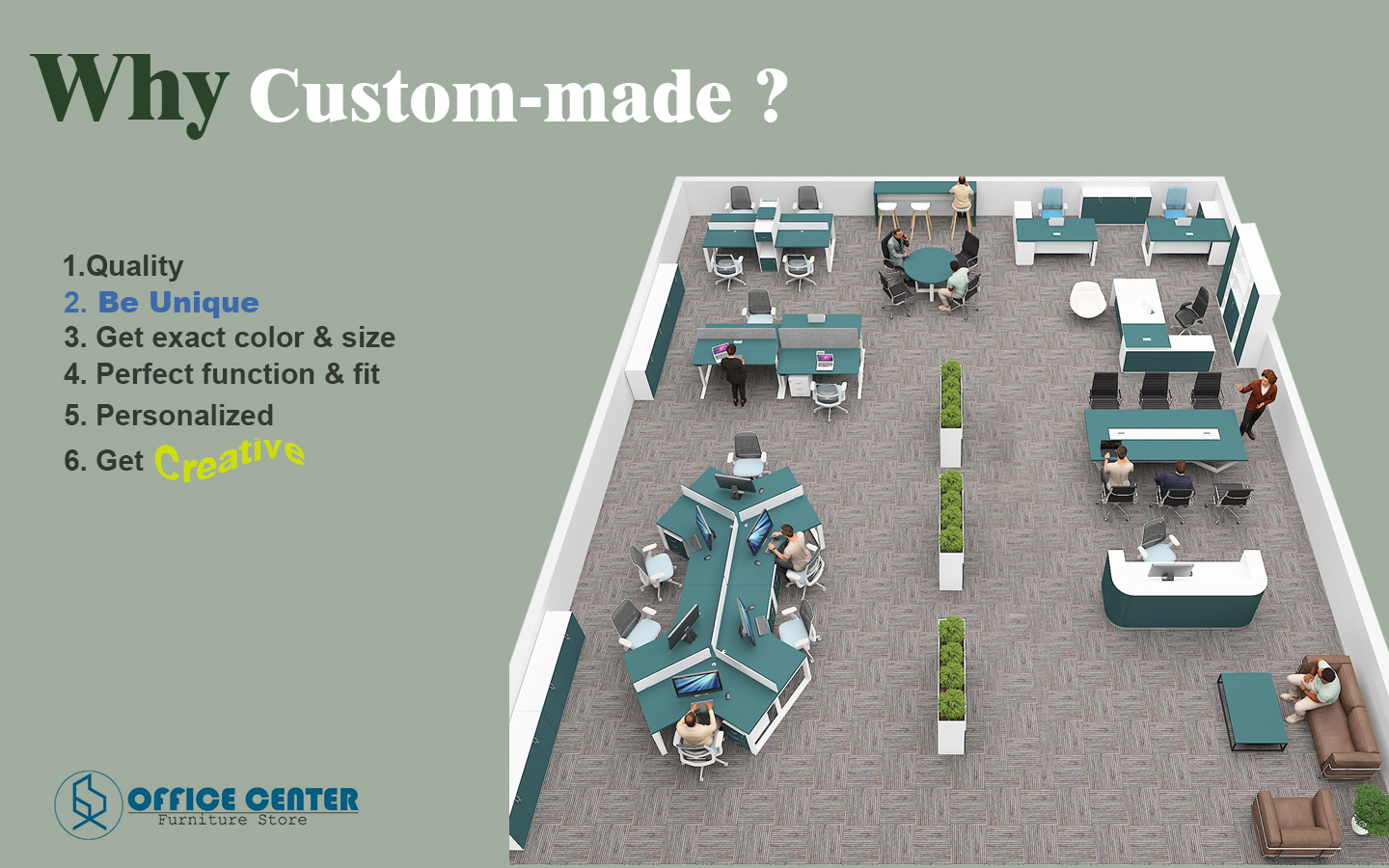 Why Should I Buy Custom-Made Office Furniture?
Do you know the benefits you will get when you buy new custom-made furniture for your Office or Home? If you don't know then don't worry, we will provide you with all the required information related to the benefits of purchasing custom-made furniture for your workplace.
what is a good reason to buy custom-made furniture !
custom-made product is when something custom-made, it is made to the customer's specifications.
Quality: Handmade furniture always has a greater quality than manufactured furniture. The quality is always higher than the mass-produced furniture you find in the showroom. They pay special attention to all the custom-made furniture. so you get long-lasting quality to your furniture.
 Be unique

: when you buy custom-made furniture you can design your own. That reflects your personality and your lifestyle. If you need an upgrade or want to remodel, opting for unique personalized handmade pieces can turn your space into heaven.

Get exact color and size:

custom-made furniture can incorporate different materials and patterns to meet your requirements and your desire. the best thing with custom-made furniture is that you get the precise size and color you need for your workplace, and fit them according to the size of the area. another thing that is you can match them according to the color scheme at your workplace or home.

 Perfect function and fit: Furniture must have a perfect function and fit. Bespoke furnishing gives you peace of mind as furniture fits according to your space. With custom-made furniture, you look at the function of that particular piece.
Personalized: You can choose the color, shape, size, texture, and design that suits you and your workplace or home best. It's all about personalizing it to your specific tastes.
Get creative: With custom-made furniture, you can build exactly what you want! You can get as creative as you want, experiment with different styles, and find what suits your preferences and needs best. What could be more exciting than having the chance to build your "dream furniture"?
Office center is the comprehensive store for all Office furniture and space planning designs. We provide a wide range of bespoke furniture in Dubai, UAE. Office center manufactured furniture with the best quality materials. there are lots of furniture stores are in Dubai, and our qualified, creative, and skilled team ensures to deliver of the best services in Dubai, UAE.
Different Kinds of Office Furniture
It's time to complete that Office, and the one thing you will need is furniture. unfortunately, it can sometimes be difficult to find out what exactly we need for our office. Picking out the right furniture is dependent on what kind of office you are in, Here are the main office furniture for your workplace,
Why should Furniture Material be Important?
Using the quality of the material is making the furniture more comfortable and durable. Furniture looking good is dependent upon the material used. Office center used high-quality German-made EGGER Board for your furniture.
EGGER is a global family company founded in 1961 in Tyrol, Austria, where it is currently based. The company produces wood-based panel products. EGGER has 20 production sites globally located in Europe (Austria, Germany, France, Poland, United Kingdom, Romania, Russia, and Turkey) and the Americas.
Material description: EGGER Eurodekor materials are melamine-faced wood-based boards for interior applications such as furniture and interior decoration.
Possible substrates: EGGER Eurospanraw chipboard, EGGER MDF, EGGER Eurolight lightweight board
1) Scratch resistance: Not including decors with a pearlescent effect.
2) Tolerances total thickness: The total thickness is defined as the substrate thickness including the coatings on both
sides of the boards.Per
3) Flatness: Valid for the equally balanced weight of decorative papers on both sides.
4) Without an air gap behind the wood-based material.
5) Exceptions only after technical feasibility check and approval from the respective production plant.
6) Eurodekor Plus: tested with 19 mm thick EN312-P2 particleboard core board.
For more details please visit https://www.egger.com/shop/en_AE/
Office center is a leading custom-made office furniture and manufacturing supplier in Dubai, UAE. why do people prefer office center for their Office furniture? Because of how affordable our furniture and quality. Our unique product is more affordable to your needs and budget. You're ready to start shopping for your Office furniture, be sure to check out our website for a great selection of Office furniture. If you have any doubts about selecting the perfect Office furniture for your workplace, don't worry our highly qualified, skilled designers will help you.
Need more office furniture models? click here